As a member of the Columbia community, your well-being outside of the classroom is just as important as your academic success. Here are campus resources, programs and practical strategies for well-being to help you achieve a balance and adjust to your life as a Columbia student.
You can also contribute your ideas and energy to our University-wide focus on mental health, well-being and community on campus through initiatives like Wellness Days @ Columbia and the Student Well-Being Survey!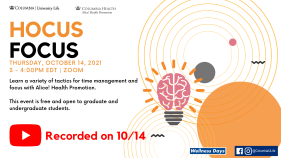 October 14, 2021 - This workshop, hosted by University Life and Alice! Health Promotion, helped participants to learn a variety of tactics for time management and focus as part of the Wellness Days initiative.
May 12, 2021 - During this presentation, an array of topics, resources, and tools are presented to assist attendees in better understanding the resources and skills needed to endeavor toward Financial Wellness; a state of well-being surrounding individual financial affairs.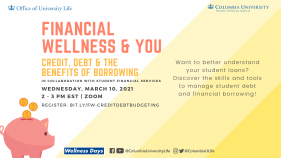 March 10, 2021 - Join Student Financial Services and learn about resources and tools to assist you with your Financial Wellness.
Other Tools
Columbia Health and CUIMC Student Health Service offer external resources that are not diagnostic but are meant to be educational and to help you better understand behavior. Columbia does not endorse or accept responsibility for external websites.
Self-assessments from CUIMC Student Health Service
Take self-screening/online questionnaires about depression, anxiety, trauma, substance abuse, eating disorders and attention deficit and hyperactivity disorder. These do not substitute assessments with a mental health professional.
Headspace App
Described as, "a gym membership for the mind," Headspace provides meditation techniques and exercises for a healthier and happier mind.
Sleep Assessment and Resources
Take an online sleep assessment to get real-time personalized feedback, start your own sleep diary, access sleep tips and resources, and send personalized sleep e-cards. From Alice! Health Promotion.
Alcohol Self-Assessment
Complete a quick online questionnaire and optionally participate in the Brief Alcohol Screening & Intervention of College Students (BASICS) one-on-one sessions, free and open to all Columbia University students.
Marijuana Self-Assessment
Complete a quick online self-assessment and get personalized feedback with the option to connect to campus health promotion professionals if you want to learn more.