The University Life Events Council is a group of students from all schools who plan activities that connect students across all Columbia.
What does the University Life Events Council do? 
The University Life Events Council designs events that:
Build community for all students across all schools and campuses
Create opportunities for students to connect beyond their schools
Promote inclusion and belonging, sexual respect, University community traditions and the arts. 
What kinds of events does the University Life Events Council offer?
University Life Events Council has offered a range of programming, including: 
Major Events - Talent Showcase, Silent Disco, Low Lounge
Film - Movie screenings, CU Film Showcase
Inclusion - Passport to Columbia, Drag Bingo, CU Stories
Social - Speed Friending, Dinner with Strangers
Service - Day of Service, ongoing service opportunities
Who is on the Events Council?
The University Life Events Council is made up of:
The Leadership Team: Students who take a larger role in the planning and implementation of events and programs
School Liaisons: Students who represent their schools and give feedback on University Life initiatives
Committee Members: Active members of the committees and event volunteers
What do Events Council members do?
Events Council members play a key role in designing and producing events in partnership with University Life, including: 
Envisioning and creating appealing, inclusive and engaging events
Marketing events to students to drive participation
Helping staff and/or enlisting volunteers for large-scale events 
Keeping their school's student government apprised of events
Promoting and/or co-sponsoring other student-led events
How does the Events Council work with University Life? 
University Life supports the Events Council with administrative liaisons, funding and logistical support and promotion. University also runs the Events Council application processes and helps to recruit students to participate.
How do I join the Events Council?
All Columbia students are welcome to apply for the Events Council leadership team, become a school liaison or join as a general Council member! The Leadership application opens periodically, so keep an eye on our site and social for these opportunities. We'd love to hear from you if you are interested in getting involved.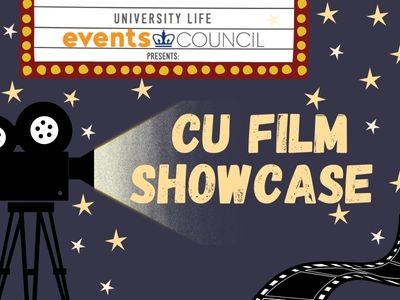 CU Film Showcase: Call for Student Films!
The University Life Events Council wants to showcase short (2-10 minute) films created by students from the Columbia community. Selected films will be shared at the CU Film Showcase in Lerner Cinema on Thursday, April 6.
Submission deadline: Sunday, March 19. Learn more and submit.
CU FILM SHOWCASE 2022
Check out the 2022 CU Film Showcase for inspiration! Registration to attend the 2023 CU Film Showcase on Thursday, April 6 opens soon.