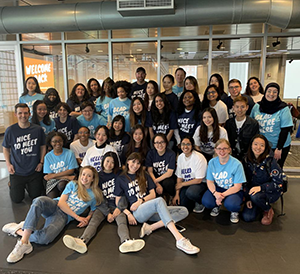 University Life Ambassadors contribute ideas, engage with other student leaders, consult with University Life staff, promote events and more. Ambassadors also have opportunities to share their voice, perspectives or experience on timely topics for University Life's communications channels. 
The 2022-2023 cohort of University Life Ambassadors will come together for an orientation program to learn about University Life and to be trained in four key focus areas. After training, Ambassadors can participate in any or all of the following areas:
Welcome Home Columbia: Ambassadors welcome students to the new academic year, plan events and help shape the community at Columbia. Welcome Home Columbia helps to cultivate a sense of inclusion and belonging for new and returning students at the start of each semester.
Wellbeing: Throughout the academic year, Ambassadors plan, promote and staff events, and collaborate with other student leaders to engage in important conversations about health and well-being. These Ambassadors support Wellness Days, which offer students a series of events and workshops that promote mental health and well-being.
Sexual Respect: Ambassadors help spread the word, engage with other student leaders and contribute ideas to the Sexual Respect Initiative, one part of the the broader Community Citizenship Initiative for all incoming Columbia students.
Inclusion and Belonging: Ambassadors learn how to facilitate dynamic conversations about race, identity and inclusion through the Campus Conversations program. Additionally, Inclusion and Belonging Ambassadors provide critical feedback on the Community Citizenship Initiative, staff events and engage student leaders on programs and other efforts that promote inclusion and belonging across the University
All students from all 17 schools are welcome to apply to the University Life Ambassador program, and all Ambassadors will be recognized for their contributions to the community.
Frequently Asked Questions (FAQs)
As an Ambassador you will meet and form connections with students from across the University, plan and execute University Life events, support University Life's communications team on social media campaigns, offer insight and feedback into University Life programming, and more!  Ambassadors are involved in many of University Life's programs, including:
Ambassadors develop their interpersonal, leadership, facilitation and project management skills. As a student leader, Ambassadors have the opportunity to lead events and programs and create inclusive spaces for their peers across the University. 
Every month, University Life also provides networking and professional development opportunities. Previous opportunities have included: 
Summer Ice Cream Social 
Make Your Own Charcuterie Box Social
Difficult Conversations Training 
LinkedIn Workshop
Strengths Assessment
Ambassadors are required to go through onboarding at the beginning of the Fall semester. Training includes a virtual orientation/meet and greet, and three 2 to 3 hour training sessions. The first will be virtual over the summer, the second and third will be in-person at the beginning of the Fall semester. Once onboarded, Ambassadors attend a one-hour meeting on the first Friday of each month throughout the academic year. At these meetings, Ambassadors receive monthly updates and professional development opportunities. Ambassadors are also asked to participate in at least four University Life events throughout each semester.
Applications to become a University Life Ambassador open during the Spring semester and close at the beginning of the Summer semester. Keep an eye on University Life's Tuesday events and opportunities emails for the application link.
The Ambassador application for the 2023-2024 academic year is open now through June 2. Apply here.
University Life Ambassadors must be registered, in-person students (part or full time) at any one of the seventeen Columbia Schools. Students at affiliate schools should consult with their Dean of Students for engagement opportunities.
Ambassadors must be in good standing with the University and their school(s).
Yes! Current University Life Ambassadors interested in continuing in the program next academic year should reapply.
Yes, as long as you will be a registered part or full time student during the Fall semester, you are eligible to become a University Life Ambassador.
Ambassadors must be available to attend all onboarding, and are required to attend a one hour meeting on the first Friday of each month. If you are unable to make the monthly Friday meeting due to your class or work schedule, you will need to attend a make-up meeting. Ambassadors are able to volunteer for any offered opportunity, based on their availability, and are asked to volunteer for at least 4 events during a semester. University Life typically hosts 2-3 events per week and times vary, so there are many options to fulfill this commitment.