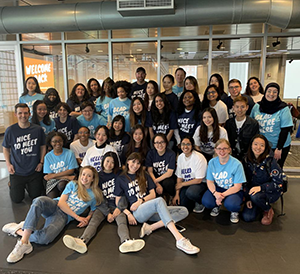 Leave a legacy at Columbia by becoming a University Life Ambassador!
You can help build an inclusive community, gain leadership skills, and make rewarding connections with students across schools.
University Life Ambassadors contribute ideas, engage with other student leaders, consult with University Life staff, promote events and more. Ambassadors also have opportunities to share their voice, perspectives or experience on timely topics for University Life's communications channels. 
The 2022-2023 cohort of University Life Ambassadors will come together for an orientation program to learn about University Life and to be trained in four key focus areas. After training, Ambassadors can participate in any or all of the following areas:
Welcome Home Columbia: Ambassadors welcome students to the new academic year, plan events and help shape the community at Columbia. Welcome Home Columbia helps to cultivate a sense of inclusion and belonging for new and returning students at the start of each semester.
Wellbeing: Throughout the academic year, Ambassadors plan, promote and staff events, and collaborate with other student leaders to engage in important conversations about health and well-being. These Ambassadors support Wellness Days, which offer students a series of events and workshops that promote mental health and well-being.
Sexual Respect: Ambassadors help spread the word, engage with other student leaders and contribute ideas to the Sexual Respect Initiative, one part of the the broader Community Citizenship Initiative for all incoming Columbia students.
Inclusion and Belonging: Ambassadors learn how to facilitate dynamic conversations about race, identity and inclusion through the Campus Conversations program. Additionally, Inclusion and Belonging Ambassadors provide critical feedback on the Community Citizenship Initiative, staff events and engage student leaders on programs and other efforts that promote inclusion and belonging across the University
All students from all 17 schools are welcome to apply to the University Life Ambassador program, and all Ambassadors will be recognized for their contributions to the community.