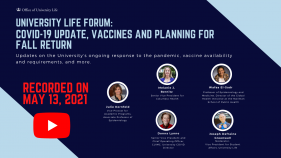 May 13, 2021 - This forum shared information on the University's ongoing response to the pandemic, vaccine availability and requirements, and more.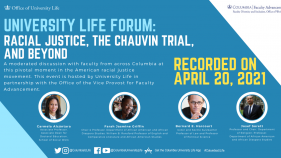 April 20, 2021 - This moderated discussion, featuring Columbia faculty from across the University, addresses this pivotal moment in the American racial justice movement.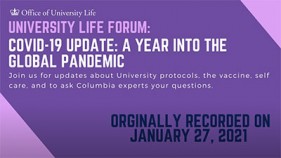 January 27, 2021 - This Forum features panelists Melanie Bernitz, Wafaa El-Sadr, Aisha Holder and Joseph Defraine Greenwell.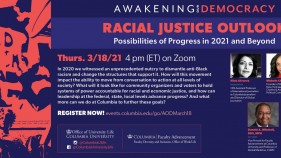 March 18, 2021 - This conversation addresses 2020's unprecedented outcry to dismantle anti-Black racism and change the structures that support it, and how we can move forward.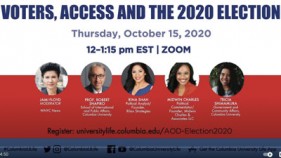 Oct. 15, 2020 - The upcoming elections will be among the most pivotal in our nation's history. Rarely have we faced so many critical issues at one time.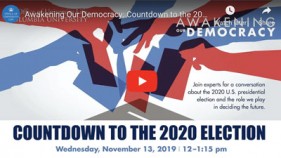 Nov. 13, 2019 - Experts from across the political spectrum talked with Columbia students about the 2020 U.S. presidential election and the role we play in deciding the future.