There is a rich history of LGBTQ+ scholarship, activism and community-building at Columbia among students, faculty and staff. University Life has compiled the following resources to help promote greater inclusion and support of LGBTQ+ students at Columbia. 
The resources below include off-campus resources that Columbia is not affiliated with, nor does it explicitly endorse any of the advocacy groups, hotlines or organizations listed here. This list is intended only to inform students of resources available to them in the broader community. 
Please note: this list is updated frequently, please check back often.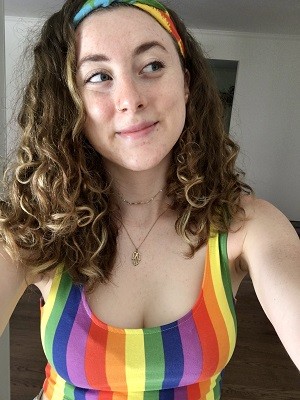 Haley Goss-Holmes, MPH Candidate, Department of Epidemiology
How do you celebrate Pride?
My celebration of pride is both internal and external. Internally, I celebrate pride by appreciating and loving who I am as a person, especially the aspects that have historically been a source of shame. Instead, I allow myself to feel joy. Externally, I celebrate pride by spending time with my queer friends, whether that's out at gay and lesbian bars, the pride parade itself, or just at each other's places.