The Columbia Experience Through the Eyes of First-Gen Students
Hear from first-generation students at Columbia who shared a bit about their stories, motivation, and what led them to the University.
January 14, 2022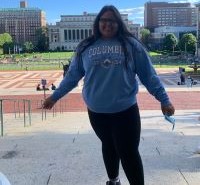 Krisna Panchal (SEAS)
Krisna is first-year student at The Fu Foundation School of Engineering and Applied Science.
Is there anything from your background or experience that serves as motivation for you?
"Growing up in a low-income household as a child of immigrants, I had to learn a lot of adult skills at a young age and I grew this passion for helping my parents after seeing them work so hard at their labor jobs. My mom has been working for minimum wage for 28 years and seeing her leave for work at 4pm on one day and coming back at 6am the next day just so our family can stay afloat in America especially drove me to make the most of the education I had the privilege of getting here. Her hard work and grit continues to motivate me today as I try to harness all the opportunities here at Columbia."
---
Keshia Pershad ('22 SPS)
Keshia is a first-gen student at the School of Professional Studies working toward her master's in Information and Knowledge Strategies. 
Do you think your experience has been different as a first-gen student? How so?
"Definitely felt imposter syndrome. I was also nervous because I graduated undergrad in '09 so I was out for a long time. I tried to apply to this program maybe since 2018 and I just talked myself in and out of it so many times because of that. I felt like I've been out of school for so long and don't know if I even fit in here.
Honestly, at work, I'm the only person that looks like me here. So I definitely felt it when I was applying and we had to do zoom interviews for the program. It's always in the back of my mind, I know that I'm capable deep down, but at the same time I can't help but feel like I might not belong here. And then it's Columbia - it's such an elite place and even though I work here, it didn't make that feeling go away."
---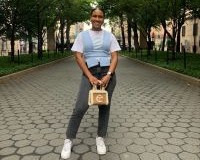 Nia Augustine (MPH)
Nia is a first-year student at the Mailman School of Public Health pursuing a master's degree in Health Administration, Management and Policy.
What difference do you want to make in the world and does your first-gen experience play a role in that in any way?
"The difference that I want to make in the world, hopefully, is in healthcare and I've been very passionate about healthcare since I was a child. The impact I want to have is to provide underrepresented communities with not only access, but quality healthcare and ensured safety. That's one of the reasons why I'm in Columbia's master's in Health Administration Program is because of my belief that my path for getting to that point in my life is by becoming the CEO of a healthcare system.
I was constantly asking myself, 'Who am I representing? Which groups of people will I want to serve when I get into these positions of leadership?' And for me it's always been underserved communities. Communities that do not have access to healthcare, communities that have to face a lot of barriers to just get the bare minimum. It's a focal point in all of my decisions."
---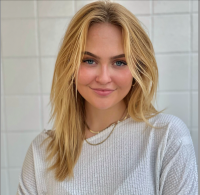 Maya Katerina Kashapov (Climate School)
Maya is is a graduate student at the Climate School pursuing a master's degree in Climate and Society, with a focus in Carbon Removal (advocacy, policy, and diplomacy surrounding carbon removal technology and direct air capture).
Did being first-gen play a role in believing you could make it to Columbia?
"Yeah. Nobody in my family had gotten a college degree before me and it felt like Ivy Leagues were so out of reach. When I first looked into Columbia's program, I didn't even know where Columbia was located. So it wasn't anything that was ever on my mind or something my family ever talked about. Despite that, I think it made me stronger in a way and gave me a thicker skin because I feel like I have been turned away from certain opportunities because I am first-gen, so I want to fight that much harder to show that I'm capable of just as much as any other American citizen. I probably have to work a lot harder to get to the same place but that just speaks to work ethic and means that I will work hard to get what I want."
---
Olivia Cordingley (SSW)
Olivia is a second-year graduate student at the School of Social Work on the Advanced General Practice track. 
What's one piece of advice that you would give to first-gen students?
"Don't let other people cow you into thinking that you're not as good as them because you don't know as much about the academic experience and you're new to it. I would also say that they should be open and honest about the fact that they're a first generation student, because if anything, I think it's a very big strength to go down an untraveled path. It shows a lot of hard work, self-reliance, and resilience. Just be proud about the fact that they are first-gen."
---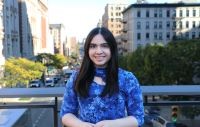 Jessica Balistreri (GSAS)
Jessica is a first-year graduate student pursuing a Master of Arts in Political Science at the School of Arts and Sciences. Her specialization is in Comparative Politics.
As the first woman in your family to pursue higher education, is that still a motivating factor today?
"It's always going to be a factor that will motivate me in every part of my academic life and life in general. I try to remember why I'm doing this and I say, 'I'm doing it for the women in my family who weren't allowed to do it and who never got the opportunity to do it'. So when I don't have motivation, I think: 'Okay, why am I doing this? I'm stressed and I'm tired'. Then I think, 'Okay I'm doing this for them'. I'm doing this for me, and I'm doing it for the future of my family. I'm doing it for the future women who will have that person who can say, 'Oh, she did it. I can do it too.'"