How to Maintain Your Well-Being as a Student, Employee or Human During COVID-19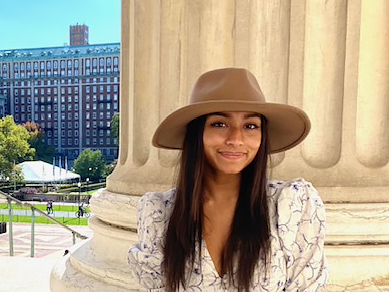 As a senior in high school, I spent an unreasonable amount of time trying to pick my senior quote. I wanted something that represented both realism and optimism, and I vaguely remember taking the ubiquitous task a little too seriously. I settled on an excerpt from Max Ehrmann's Desiderata: A Poem for a Way of Life. The quote read, "With all its sham, drudgery, and broken dreams, it is still a beautiful world." Well, that quote has met its match: 2020. 
On December 31, 2019, at 11:59 p.m., I stood in a bar in Greenpoint, Brooklyn, counting down the seconds to a new decade, a symbol of a new beginning for humanity. A pivotal moment of change. Neither the psychics in the East Village nor Nostradamus could have predicted the reality that we exist in today. A global pandemic has swept the world, lives have been taken, jobs have been lost, economies have crumbled, humanity has lost so much. Did I mention that we're in an election year? Somehow, someway, time has, as they say, marched on. The world, even if just barely, has continued to turn and the sun has continued to rise every day. If nothing else, the transition from night to day gives me hope. 
There is a part of me that feels guilty that, in many ways, 2020 has been good to me. I was able to enroll in graduate studies here at Columbia, where I am studying nonprofit management. I was lucky enough to keep my job amongst layoffs and have started a new job. Most importantly, my family is safe and healthy at the moment. That's not to say that I haven't faced weeks of alternating anxiety and depression, specifically in the early months of quarantine. There were times that I felt hopeless, and over time I learned that I, like many others, was mourning my old life. I've compiled a few ways that I've coped with – dare I say it – our "new normal," and how I've kept my eye on the positive to maintain my mental health: 
Take Stock, Take Care
Conduct a gratitude check every morning and night. As I mentioned, I was lucky enough to receive some incredible blessings in 2020, including health, career and education. If you have one or all of those things in your life or even something that is important to you and that you'd be terrified to lose, account for it. Speak your gratitude to the world or to a journal, and really thank the Universe for what you have, where you are and where you've been, and where you're going.
Try to limit your news and social media intake. This is easier said than done, but there is a difference between being informed and being hyper-informed and subjected to sensational media. Along with the pandemic and the social justice movements, we're in an extremely important, yet sensationalized, election cycle. Educate yourself on what is going on in the world in increments that don't feel overwhelming. Try to unplug where you can.
Accept that you can't solve all of the world's problems – especially when you haven't solved your own. Trust me, if I could end racism, find a cure for the coronavirus, maintain a 4.0, be the best employee my company has ever had, call my parents every hour, and be the perfect girlfriend, all while maintaining a healthy mind and body, I would. But I can't, and over time I have accepted that I can't solve any one problem if I haven't accounted for myself. Set time aside for yourself. Turn off your social media and ask yourself what is important to you, what resources you have to make an impact where you can, and make a real action plan to ignite change.
Move your body. There is a reason that exercise has been touted as one of the best things that you can do in times of tribulation. Physical movement provides release and a distraction. Try to squeeze in a run, Pilates or yoga in moments when you would take a break to scroll Instagram or shop online. It's the small tweaks that you make in life that set you up for success. 
There's no easy way to get through this year. For many, this was the worst year imaginable. I feel for every soul on the planet and I empathize with everyone who has lost someone or something this year. Take a deep breath, safely connect with your loved ones, take a bath, write in your journal, and peel back the layers of this year by providing small acts of kindness and love to yourself, your family, your friends and your peers. After all, somewhere, under all of these layers of sham and drudgery and broken dreams, it is still a beautiful world. 
Emma Shahid is studying nonprofit management at the School of Professional Studies. Write to [email protected] to share your feedback and ideas. (Photo courtesy of Emma Shahid)