AWAKENING OUR DEMOCRACY is Columbia's conversation series on disparities and justice issues at the forefront of the University's and the nation's consciousness. Events foster University-wide dialogue through discussions with thought leaders, advocates, journalists and scholars.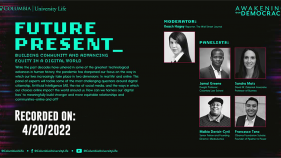 April 20, 2022 - A panel of experts tackled the most challenging questions around digital citizenship, including Artificial Intelligence (AI), the rise of social media, and the ways in which our choices online impact the world around us.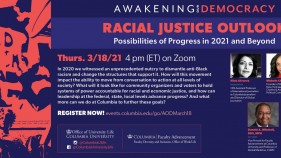 March 18, 2021 - This conversation addresses 2020's unprecedented outcry to dismantle anti-Black racism and change the structures that support it, and how we can move forward.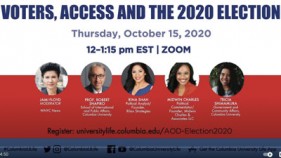 Oct. 15, 2020 - The upcoming elections will be among the most pivotal in our nation's history. Rarely have we faced so many critical issues at one time.
Co-sponsors for the Awakening Our Democracy series include:
Center for American Studies | Center for Children and Families | Center for Institutional and Social Change | Center for Intersectionality and Social Policy Studies | Center for Justice | Center for Race, Philosophy and Social Justice | Center for the Study of Ethnicity and Race | Center for the Study of Law and Culture | Center on African American Politics and Society | Center on African-American Religion, Sexual Politics and Social Justice | Columbia Population Research Center | CUMC Deans for Diversity | Dart Center for Journalism and Trauma | CU Speak | Engineering Student Council | Heyman Center for the Humanities | Institute for Religion, Culture and Public Life | Institute for Research in African-American Studies | Institute for Research on Women, Gender, and Sexuality | Institute for the Study of Human Rights | Office of Multicultural Affairs  | Office of the University Chaplain | Office of the Vice Provost for Faculty Diversity and Inclusion | Sanford C. Bernstein & Co. Center for Leadership and Ethics | SIPA Diversity Task Force | Social Intervention Group | Students of Color Association | Tamer Center for Social Enterprise | Temple Hoyne Buell Center for the Study of American Architecture | White Coats 4 Black Lives | Women's, Gender, and Sexuality Studies Council