AWAKENING OUR DEMOCRACY is Columbia's conversation series on disparities and justice issues at the forefront of the University's and the nation's consciousness. Events foster University-wide dialogue through discussions with thought leaders, advocates, journalists and scholars.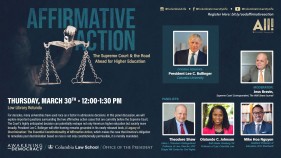 March 30, 2023 - For decades, many universities have used race as a factor in admissions decisions. This panel discussion will explore the significant questions surrounding the two cases on this subject that are before the Supreme Court. President Lee C. Bollinger offered opening remarks grounded in his newly released book, in which he and his co-author make the case that America's obligation to remediate past discrimination based on race is not only constitutionally permissible, it is morally mandated.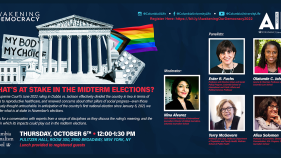 October 6, 2022 - The Supreme Court's June 2022 ruling in Dobbs vs. Jackson effectively divided the country into two nations in terms of access to reproductive health care, and renewed concerns about other pillars of social progress – even those previously thought untouchable. In anticipation of the country's first national election since January 6, 2021, we considered what is at stake in November's elections.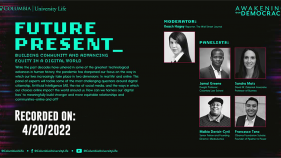 April 20, 2022 - A panel of experts tackled the most challenging questions around digital citizenship, including Artificial Intelligence (AI), the rise of social media, and the ways in which our choices online impact the world around us.
Co-sponsors for the Awakening Our Democracy series include:
Center for American Studies | Center for Children and Families | Center for Institutional and Social Change | Center for Intersectionality and Social Policy Studies | Center for Justice | Center for Race, Philosophy and Social Justice | Center for the Study of Ethnicity and Race | Center for the Study of Law and Culture | Center on African American Politics and Society | Center on African-American Religion, Sexual Politics and Social Justice | Columbia Population Research Center | CUMC Deans for Diversity | Dart Center for Journalism and Trauma | CU Speak | Engineering Student Council | Heyman Center for the Humanities | Institute for Religion, Culture and Public Life | Institute for Research in African-American Studies | Institute for Research on Women, Gender, and Sexuality | Institute for the Study of Human Rights | Office of Multicultural Affairs  | Office of the University Chaplain | Office of the Vice Provost for Faculty Diversity and Inclusion | Sanford C. Bernstein & Co. Center for Leadership and Ethics | SIPA Diversity Task Force | Social Intervention Group | Students of Color Association | Tamer Center for Social Enterprise | Temple Hoyne Buell Center for the Study of American Architecture | White Coats 4 Black Lives | Women's, Gender, and Sexuality Studies Council