COVID-19: A Day in the Life of Physical Therapy Student Jack Fant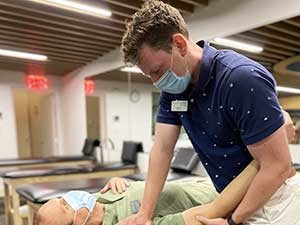 By John "Jack" Fant
In my previous blog for University Life, I wrote about adaptation and the ways in which my Columbia experience has changed in the wake of COVID-19. Today, I am sharing my typical day as a student and young professional — and the many ways that I've found to adapt.
4:45 AM: Wake up
The piercing, nightmare-inducing sound of the default iPhone alarm forcefully ushers me into a new day. I groggily freshen up and make a gallon of coffee. 
5:45 AM: Commute to Work
I live in Washington Heights, so the southbound 1 train and I have become good friends during my few years in the city. Since beginning my current physical therapy rotation back in late August, I have noticed a steady rise in the number of commuters venturing out into the city and using public transportation as a whole. It is a welcome nod to the New York of old, and on especially busy days feels almost normal — except for the masks. However, we then zip by a mostly empty 116th St. station (one that is so familiar to Columbians, bustling with students, staff and faculty), and I am reminded of how unusual our reality truly is. The commute is about 45 minutes door to door, and I generally spend the time getting briefed on the news by a podcast or attempting to find the right musical groove for the day. Pod Save America and A Tribe Called Quest usually hit the spot. 
7 AM: See My First Patient 
After a few minutes of reviewing the notes on the morning's patients, my workday begins. Everything from neck pain to knee surgeries can be on a therapist's caseload, and I have found that the most challenging aspects of my training are rooted in being able to treat such a broad spectrum of pathologies. Practice is the best policy, and over the course of the past seven weeks my confidence and skill have grown. The measures taken to ensure a safe clinical environment should not be understated: We must clean every treatment table and piece of equipment following its use. This was the standard pre-COVID, but now we must also deep-clean high-touch areas every four hours. Temperatures are checked before accessing the therapy gym, and hand-washing is strictly enforced. We do our best to maintain the maximum possible distance between patients but understand that there will always be inherent risk involved with an indoor health care setting. 
12:30 PM: Have a Working Lunch
The lunch hour has proven to be a great time to squeeze in a telehealth patient between bites of a hastily thrown together amalgam of leftovers. Telehealth has been around for some time but lacked major prominence and funding. In the early stages of the pandemic, the medical field rushed to find ways to work with patients without physical contact. Now, patients who were deemed high risk or who lived a great distance away could still receive therapeutic services through video calls. This medium has challenged health care professionals to develop strategies for providing the best possible care and the future of telehealth as a post-COVID mainstay of medicine is an exciting reality. Telehealth for physical therapy certainly has its benefits and provides excellent care for some highly functioning patients. However, as hands-on contact is a foundational pillar of our practice, there are many people who are not being treated to their full capacity. Creativity and patience are crucial as therapists figure out how to properly stretch a shoulder or strengthen someone's glutes from 30 blocks away. 
4 PM: Heading Home (Nice!)
The journey uptown starts with a long walk across town via 34th Street. The Empire State Building stands resolute as I weave through tourists and shoppers mingling around Herald Square and Macy's. Most are abiding by the public health guidelines — but not enough to feel completely comfortable. (Not as nice!)
5:30 PM: Work Out
Running — or, at least, attempting to run — has been one of my COVID-world physical activities. I generally do a little loop that winds through Columbia University Irving Medical Center and down under the George Washington Bridge at Riverside Park. I often pass friends and colleagues along the route and get a significant but fleeting boost of energy as my excitement to see them — even for a socially distanced moment — is a welcome surprise. 
7 PM: Eat Dinner
I would love to say that my cooking prowess has grown with the free time I've gained by way of the pandemic, but sadly, that is not the case. However, I can do the basics well, and I have even been called the Gordon Ramsey of chicken, rice and vegetables. My roommates begin to trickle in from their workdays, and the living room provides a space for decompression and a few good laughs before bed. The pandemic has brought the five of us closer, as we have been riding out this storm together since our classes were first pushed online in mid-March. I am thankful for their friendship and the momentary distractions they are able to provide from an often confusing and tumultuous world. 
8:30 PM: Do a Little Homework
I have developed a passion for teaching during my time at Columbia through various volunteer events and elective classes. That passion has manifested itself in an opportunity to give a Gross Anatomy lecture to first-year Doctor of Physical Therapy students in our program. For the past month or so, I have been reading textbooks, creating an outline, selecting relevant images and practicing my delivery for a November lecture. I generally try to squeeze in 30 minutes to an hour of work toward the end of the day, but far too often, the bed proves to be a much more inviting companion.
10 PM: Lights Out
The day has run its course and though the COVID reality is one that has taken some getting used to, it is nothing that a little adaptation and patience can't overcome.
I am generally eager to lay down in preparation for the next day and I am grateful for the new creative avenue of this blog — though I am still not looking forward to that alarm. 
Be well. Go, Lions.
Jack Fant is a physical therapy student at Columbia University Vagelos College of Physicians and Surgeons. Would you like to share a blog for publication? Write to [email protected] to learn how you can add your voice to the conversation! 
Photo Credit: Jack Fant