The University's recognition of Indigenous Peoples' Day builds upon earlier steps to honor the Indigenous peoples who have lived on the land upon which Columbia is built. In 2016, Columbia officially recognized the Lenape people who lived in this area before and during its colonization by placing a commemorative plaque on University grounds.
With these and other efforts, we hope to make this community more welcoming and inclusive of all current and future Native and Indigenous student scholars, faculty and staff.
Past Events
Columbia University School of Nursing Indigenous Peoples' Day: Emergence/Submergence
Monday, Oct. 12, 2020 – 1 P.M. 
Hadrien Coumans (co-founder & co-director of Lenape Center and Advisor for Wellbeing) will discuss well-being practice and knowledge drawn from the work of Lenape Center and other experiences of dynamics of healing.
Indigenous Peoples' Day: Ella Cara Deloria Lecture
Monday, Oct. 12, 2020 – 6 P.M.
Join Multicultural Affairs and Native American Council for the inaugural Ella Cara Deloria lecture, named after a prominent Yankton Sioux educator, anthropologist, ethnographer, linguist, novelist, and 1915 graduate of Teachers College, Columbia University. This year's theme explores the intersections of Black and Indigenous Identities.
Indigenous Peoples of the Americas and the COVID-19 Pandemic
Monday, Oct. 12, 2020 – 7 P.M. 
In honor of the first Indigenous Peoples' Day 2020 commemoration at Columbia University.
Election and Human Rights Series: Indigenous Peoples' Rights and Elections
Wednesday, Oct. 14, 2020 – 12:10 P.M.
A number of complex questions arise when it comes to elections and Indigenous Peoples. Disenfranchisement has taken different forms for different groups in this country. Keeping in mind historical, socio-political and legal factors, what are the most critical contextual problems for each of these sectors for participation of Native Americans in elections?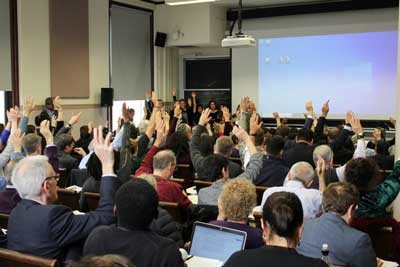 In an eventful and historic plenary, the University Senate passed a resolution to recognize Indigenous Peoples' Day to be celebrated on the second Monday of October every year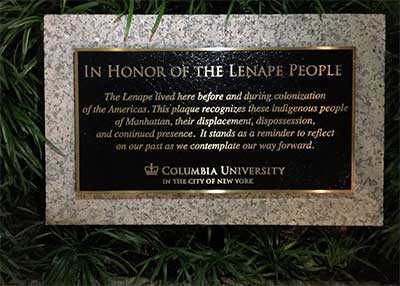 To honor those who occupied territory in Manhattan before the colonization of the Americas, the Native American Council, Office of University Life and Office of Multicultural Affairs unveiled a plaque dedicated to the Lenape people in an Indigenous Peoples' Day ceremony.